Concerts & Music
If you love music, then Music at the Movies is for you! Join us in cinemas across Canada for music documentaries, concert films and music movies where you can celebrate your favourite artists with other fans!
André Rieu 2019 Maastricht Concert: Shall We Dance?
Synopsis
André Rieu's annual hometown Maastricht concerts attract fans from all corners of the globe. The medieval town square is transformed into a spectacular backdrop for unforgettable concerts filled with humour, fun and emotion for all ages – and, of course, magnificent music.
This year André Rieu invites you to put on your dancing shoes for his spectacular 2019 hometown concert from Maastricht: 'Shall we Dance?'
You can waltz the night away with André Rieu - the majestic waltz has been such an inspiration to André throughout his career that its three-four beat has become, in many ways, the rhythm of his life. And this year the maestro will bring the waltz to life in an unforgettable evening of music and dance.
Summer nights are made for dancing and this is a party you do not want to miss! Prepare to be swept off your feet by this magical celebration of dance on the big screen in the comfort of your local cinema.
Join André Rieu, his Johann Strauss Orchestra, world class sopranos, The Platin Tenors and special guests for a magical cinema experience. Audiences will be treated to behind the scenes content and an exclusive interview with André and as always, some delicious surprises. Shall we dance?
For a truly unforgettable cinematic experience, please join André and his Orchestra in their hometown of Maastricht!
Date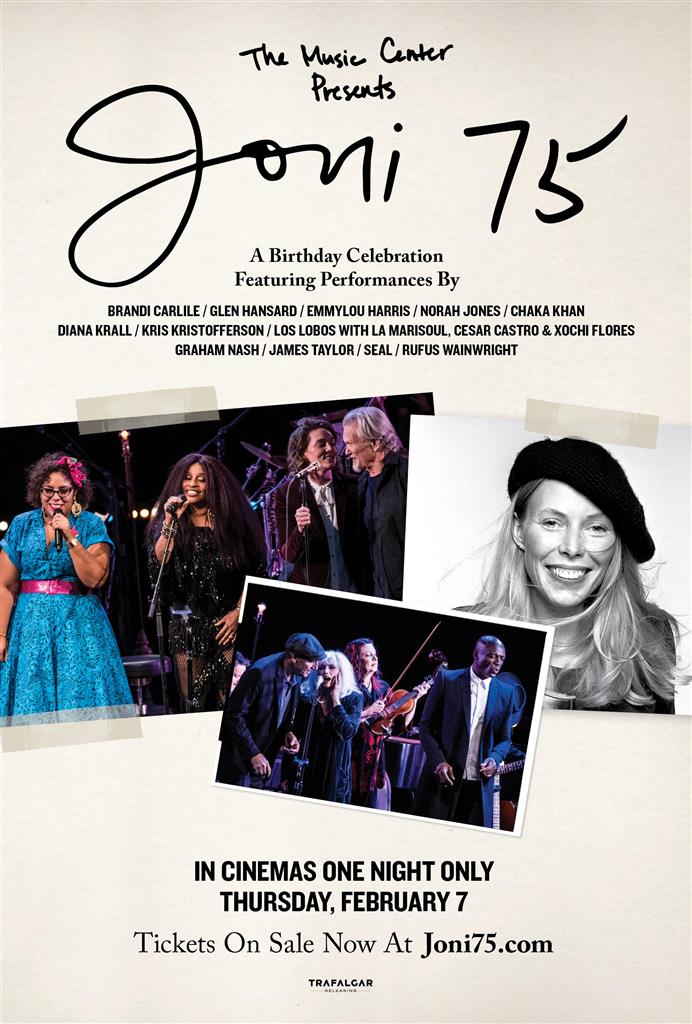 The Music Center Presents JONI 75 A Birthday Celebration
Synopsis
Audiences will join an incredible array of singers and musicians who came together to honor one of the world's most remarkable artists, Joni Mitchell, on her 75th birthday. The hand-selected group of peers and protégés including Brandi Carlile, Glen Hansard, Emmylou Harris, Norah Jones, Chaka Khan, Diana Krall, Kris Kristofferson, Los Lobos with La Marisoul, Cesar Castro & Xochi Flores, Graham Nash, Seal, James Taylor, Rufus Wainwright and more paid tribute to the iconic artist, performing songs from all stages of Mitchell's life and career, across her entire catalog of 19 studio albums. Captured over two nights in November 2018 by The Music Center at the Dorothy Chandler Pavilion in Los Angeles, the entire concert, along with special behind-the-scenes interviews with the artists, will be shown in movie theatres for one night.
Date
Josh Groban from Madison Square Garden
Synopsis
Captured live from his sold-out performance, Josh Groban from Madison Square Garden features a full concert performance with Josh's band, choir and orchestra along with very special guests Idina Menzel and Jennifer Nettles. Josh Groban is an internationally renowned singer, songwriter, and actor whose baritone voice is instantly recognizable and unparalleled among his peers. He has entertained fans across the globe with his multiplatinum albums and DVDs (selling more than 30 million worldwide), electrifying live performances, and comedic film and television appearances. Groban is the only artist who has had two albums land on Billboard's list of 20 best-sellers of the last 10 years.
Date
Presentations may not be available at all participating theatres for all advertised dates.