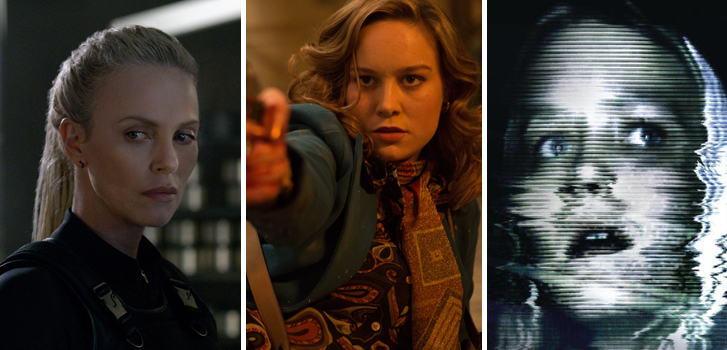 The Fate of the Furious, Free Fire, Phoenix Forgotten and more movies you need to see this April
It's April now, which means it's rainy, gloomy, and you may want a cozy place to escape to. Lucky for us, there are a bunch of great movies opening at Cineplex this month that you'll definitely want to see.
There's a grand variety of films to choose from--including monster movies, dystopian thrillers, family dramas, and found footage horror films. Check out our list of the eleven movies you need to watch this April!
Release Date: April 7th
For Fans of: Chris Evans, Marc Webb, Math
See it with: Family
From the director of (500) Days of Summer and the Andrew Garfield Spider-Man movies comes this sweet family drama about a child prodigy torn between her Uncle and her Grandmother. Frank (Chris Evans) is raising his gifted niece, but when her mathematical abilities come to the attention of her grandma, a custody battle ensues. The film co-stars Mckenna Grace, Jenny Slate and Octavia Spencer, and with all of that talent involved, we're feeling like Gifted will be an indie hit.
Release Date: April 7th
For Fans of: Demi Lovato and Smurfs!
See it with: Family
See it in: 3D
It wasn't too long ago that we got a live-action Smurfs film starring Neil Patrick Harris, but Smurfs: The Lost Village is going the completely animated route, and we're happy about this return to form. In this new vision of The Smurfs, a mysterious map leads Smurfette (Demi Lovato) and her friends through the Forbidden Forest where they'll uncover the biggest secret in Smurfs history. We're excited to find out what that may be.
Release Date: April 7th
For Fans of: Biopics, Canadian art, Maud Lewis
See it with: Your mom
Sally Hawkins gives a career best performance as the famous Canadian painter Maud Lewis, who suffered from juvenile rheumatoid arthritis, but didn't let that hold her back from her pursuits. She meets and works for Everett Lewis (Ethan Hawke), who she eventually marries, and begins painting on the walls in their home. When a visitor discovers her paintings, Maud quickly becomes the talk of small town Nova Scotia and it sets off a career that has made her one of Canada's most beloved artists. Maudie is a sweet film that tells the story of this woman who overcomes many obstacles, and we'd be surprised if Hawkins didn't earn an Oscar nomination.
Release Date: April 7th
For Fans of: ​This epic cast
See it with: Your friends til the end
There's not much that sounds more appealing to us than a buddy movie starring big-screen legends Morgan Freeman, Alan Arkin and Michael Caine robbing banks together. That's exactly the premise of Going in Style, where these three men get revenge on the banks that absconded their retirement savings. We can't wait to see this trio "go out in style" together, in this film that's directed by Zach Braff.
Release Date: April 14th
For Fans of: Car chases, epic battles, Vin Diesel and The Rock
See it with: Friends
See it in: IMAX
As if the cast of the Fast and Furious series wasn't epic enough, the eighth film adds the fiercest actress working today, Charlize Theron, to the crew. She plays a mysterious woman who seduces Dom (Vin Diesel) into a life of crime which results in him betraying his closest friends. It will test this group, which also includes Dwayne Johnson, Michelle Rodriguez, and Ludacris.
Release Date: April 21st
For Fans of: Guns, Shoot Outs, The 1970s
See it with: A date
Free Fire is the zany new movie from one of the most visionary directors working today, Ben Wheatley. In this film, he takes us into a weapons trade in the 1970s where the situation gets out of control when a gang attempts to buy new guns. It essentially results into a feature-length showdown taking place in an abandoned warehouse, and it's both hilarious and epic. It also features a stellar cast including Brie Larson, Cillian Murphy, Sharlto Copley and Armie Hammer.
Warning: Content May Offend
Release Date: April 21st
For Fans of: James Gray, Adventures, Charlie Hunnam
See it with: Friends
Indie director James Gray (The Immigrant) is a highly acclaimed filmmaker who doesn't make films often enough. So it's a real treat that he's back with The Lost City of Z, a film that stars Charlie Hunnam (Pacific Rim) as the real life British explorer Col. Percival Fawcett, who disappeared while searching for a lost city in the Amazon in the 1920s. The film also stars Robert Pattinson, Tom Holland and Sienna Miller.
Release Date: April 21st
For Fans of: Monsters, Drinking, Quirky comedies
See it with: Your childhood friend
Colossal is a movie unlike anything you've probably seen before. It stars Anne Hathaway as Gloria, a party girl who returns to her hometown after her boyfriend (Dan Stevens) dumps her. She reconnects with old friends (namely one played by Jason Sudekis) and gets a job at a local bar, and it all seems pretty standard. That is until a monster starts wreaking havoc in Seoul, South Korea, and Gloria realizes that she has a supernatural connection with this monster. We caught Colossal at TIFF and can guarantee it is one of the most unique and rewarding films of this year.
Release Date: April 21st
For Fans of: Found footage, aliens, horror
See it with: A large group of friends
Phoenix Forgotten looks like it could be the scariest film of the year. It tells the story of three teenagers who disappeared after mysterious lights appeared in Phoenix, Arizona. The film chronicles the unseen footage from their night on a fateful expedition that lead to their disappearance. Fans of films such as The Blair Witch Project will get their fix with Phoenix Forgotten, and probably won't be able to sleep for days.
Release Date: April 28th
For Fans of: Technology, Dystopia, James Ponsoldt
See it with: A date
See it in: VIP
Based on the dystopian novel by Dave Eggers, The Circle follows Mae (Emma Watson) who lands a job at a powerful tech company (called The Circle) and quickly realizes the destructive intentions of her new workplace. Directed by James Ponsoldt (The Spectacular Now), The Circle is a timely and topical film that will make you question the Internet, social media, and the future.
Release Date: April 28th
For Fans of: Music, Terrence Malick, Art cinema
See it with: A date
We're guessing that Terrence Malick's Song to Song is going to be another visual poem, similar to his last couple of films To the Wonder and Knight of Cups. It stars an impressive cast including Ryan Gosling, Natalie Portman, Rooney Mara and Michael Fassbender, but also cameos countless musicians, seeing as it is set in the music scene of Austin, Texas. Malick's films are certainly not for everyone, but if you want to try something different, Song to Song may be your chance to dabble in the very poetic cinema of one of our most challenging filmmakers working today.
To watch these films and more at a Cineplex theatre near you, click here for tickets and showtimes!