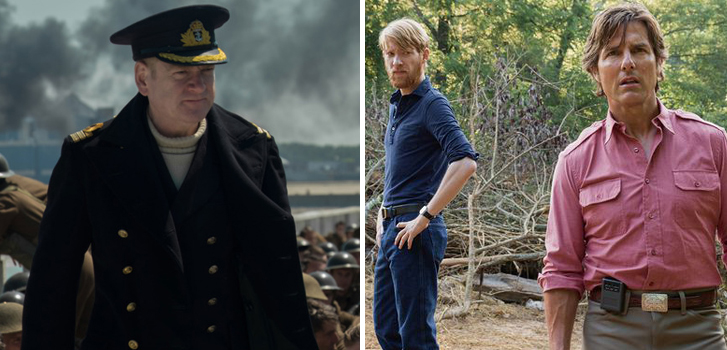 Dunkirk, American Made, and more are coming to the Cineplex Store this month!
2017 is finally drawing to a close, and there have been plenty of exciting and thrilling films throughout the year. Some of the year's best are hitting the Cineplex Store this month, and they're all definitely worth a repeat viewing!
We compiled a list of five of our favourite titles coming to the Store this month, and whether you're looking to rent or buy, there is undoubtedly something perfect for you. The Cineplex Store is also having a pretty amazing holiday promotion: buy from a number of select movies and get a FREE ticket to see a movie in theatres! Also, earn twice the SCENE points store-wide! Happy holidays from the Cineplex Store!
---
It's bold, it's loud, and it's very Christopher Nolan. One of our greatest auteurs takes on the infamous Battle of Dunkirk, and it definitely does not disappoint. Following British soldiers on land, at sea, and in the air, Dunkirk is an edge-of-your-seat tour de force, and needs to be seen to be believed. If you didn't catch it in theatres, we can't recommend it enough, and if you did see it, why not bring the action home?
Available to: Buy (Dec. 12) and rent (Dec. 19)
---
With its stellar voice cast (Dave Franco, Olivia Munn, Kumail Nanjiani, Jackie Chan, Fred Armisen…), The LEGO Ninjago Movie offers genuine laughs for the whole family. The LEGO movies have a habit of being very good, and this latest installment does not disappoint. Your kids are sure to love it, and we can guarantee that you'll feel the same way.
Available to: Buy (Dec. 12) and rent (Dec. 19)
---
Stephen King's epic multi-generational tale of an evil entity terrorizing a small town is brought to life in all its gruesome and horrifying glory in Andy Muschietti's It. Featuring a perfect young cast and a lifetime's worth of nightmare fodder, it's the horror lover's dream. Bring a little creepiness to your holiday festivities this year with It.
Available to: Buy (Dec. 19) and rent (Jan. 9)
---
Tom Cruise proves he's still a bankable action hero in this amazingly true story of an American pilot who worked undercover running drugs for the CIA. Domhnall Gleeson, Jesse Plemons, and Sarah Wright also star, making this the perfect action flick to watch with a hot cup of cocoa. What screams "holidays" more than Tom Cruise daringly flying a prop plane through the Central American jungle?
Available to: Buy (Dec. 19) and rent (Jan. 2)
---
The long-awaited sequel to the original Kingsman was a resounding success, and somehow made us love it even more by adding Jeff Bridges and Channing Tatum. In the film, the Kingsman head stateside to meet The Statesmen, their American equivalent. The two team up to stop a new American threat, and the result is entertainment at its most pure.
Available to: Buy (available now) and rent (Dec. 12)
Rent or Buy these titles and more at the Cineplex Store!