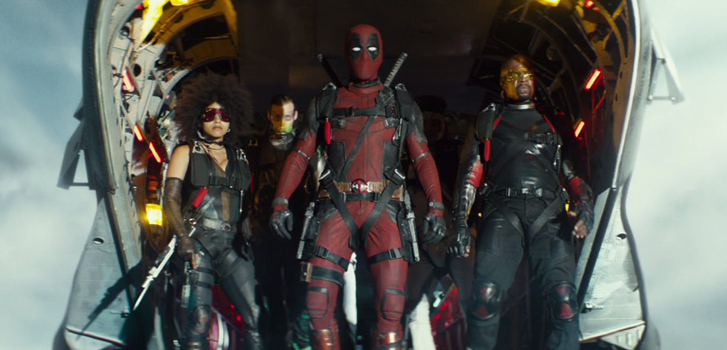 The new, full Deadpool 2 trailer is here and it's everything we'd hoped for
Fans rejoice: there's finally a new, full Deadpool 2 trailer and it's crammed full of all the cursing, blood and gore, and deadpan sarcastic wit we loved in the original film! We're excited all over again to see Wade Wilson (Ryan Reynolds) back onscreen with all his old pals and a few new ones, plus the new Big Bad, Cable (Josh Brolin, doing double duty as movie supervillains this spring).
All of DP's friends are here – his girlfriend Vanessa (Morena Baccarin), his driver Dopinder (Karan Soni), his roommate Blind Al (Leslie Uggams) and of course his good pal Weasel (TJ Miller). In this trailer we finally get some actual plotlines: Cable is the villain, here from a dystopian future, and his mission is to kill a kid – Julian Dennison, who you might recognize as Ricky Baker from Hunt for the Wilderpeople. Bet this kid is a real bad egg, too, and also enjoys burning things.
Deadpool, that lovable softhearted guy, is out to stop Cable by forming a supergroup of heroes. The trailer finally confirms what was long suspected - the teamup between Deadpool, Domino (Zazie Beatz), Negasonic Teenage Warhead, Colossus, and more is called X-Force and as Mr. Pool admits, the name is frankly a little derivative.
Negasonic Teenage Warhead is seen with a purple-haired mutant– apparently the two are girlfriends but her exact powers aren't known, though the internet is rampant with rumours that she's Psylocke. Terry Crews is here too, though his character isn't named, and there are others onboard this adventure, leaving just enough unsaid or unconfirmed for the internet to cramp its fingers with wild speculation. Will this be the ultimate superhero crossover-slash-sequel we've been waiting for?
Finally, this trailer confirms that as well as plenty of jokes, the sequel will have all the gory violence that we've come to expect from the original. Decapitations? Check. Bloodspatter? Check. Gunshots at close range and bodies being rammed by vehicles? Check, check. Also, our fast-healing hero looks a little pained when taking punches from Cable – could it be he can actually harm the lovable mercenary on a permanent basis? We'll have to wait until May 18th to find out, when Deadpool 2 hits theatres!
Warning: Content may offend sensitive viewers:
For all the latest trailers, click here!